By Sandra Phillips, Founder and CEO at Movmi
You can read the last part here.
Sign Up
Subscribe
By signing up to the Autonomy newsletter you agree to receive electronic communications from us that may sometimes include advertisements or sponsored content.
Everyone is publishing their trend analysis for new and shared mobility mobility at the moment. And since everyone else covers the big four: autonomous driving, electrification, mobility-as-a-service and micromobility, I will focus on patterns of changes and transformations that involve different sociocultural and economic aspects. Over the next two weeks, I'll share 7 trends that I believe will shape shared mobility in 2022.
Trend 5 – BI and TDM = Behaviour Change
Please what? Bear with me just for one second.
I've been working at the intersection of technology, urban planning and vehicle engineering for over a decade and I've learnt that we focus so much of our collective energy on building the latest shiny technology silver bullet and rarely on actually bringing people along with us. Just look at this image from National Geographic from October 2021:
Just look at this image from National Geographic from October 2021: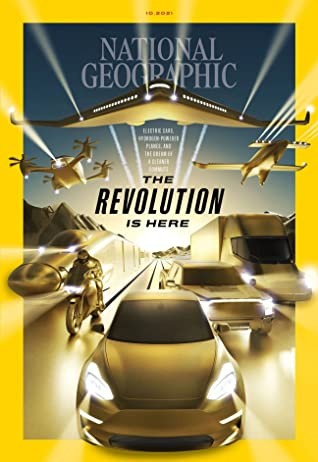 Flying drones and electric motorcycles, bullet trains and cyber trucks and – of course – front and center is an electric car driving at high speed at us. Where are the humans?
The good news is there is a shift away from car-centric planning to human-centric. The 15-minute city movement is proof of that. TDM and BI are other ways of moving away from carmaggedon.
Let's start with deciphering TDM (Transportation Demand Management), a general term for strategies that result in more efficient use of transportation resources. Unbundling parking when selling a condo is a TDM strategy just as is introducing carsharing or introducing incentives to use alternative modes, be that a carbon tax or congestion pricing or a transportation wallet. If you want to have your mind boggled as to all the different tools and strategies available, head over to the TDM encyclopedia of the Victoria Transport Policy Institute.
TDM is nothing new, in fact, over past 20 years, cities and transit agencies have implemented TDM strategies and plans. But with an increase in climate change induced weather events, TDM action plans have now become part of Climate Emergency plans. The City of Vancouver, for instance, has released a brand new TDM action plan in 2021, focused on 10 strategies and a catalogue of action items for each. And since TDM's main main objective is to reduce private auto ownership and road congestion while at the same time providing more sustainable alternatives, they focus on educating the public about these alternatives: public campaigns, programs and events are at the heart of Strategy 2 and 3 for Vancouver's plan.
Which leads me to BI, Behavioural Insights, which is a systematic and structured approach to influencing human behaviour to encourage positive change. BI applies principles from behavioural sciences to real world issues and the insights garnered from the experiments/pilots are then used to scale the successful solutions. Again BI is nothing new, the famous Behavioural Insight Team of the UK governement was installed in 2010. Why do we need BI on top of TDM? Because as Dan Ariely in his TED talk from 2019 said: « Giving people information is just not a good recipe to change behaviour ».
If we actually want to change behaviour we have to understand how friction and motivation play into it. And BI is a great way of rigorously testing just how that could possibly work. A study published by the Department of Land Economy, University of Cambridge, in 2021 showed that nudges and faming improved respondents' willingness to adopt e-scooters significantly in New York City. Trafi – one of the leading whitelabel MaaS providers – launched a project last summer with Solent Transport in the UK where they teamed up with BIT who is measuring the impact and how it could further develop the product to make it easier and more helpful for customers. And the newly founded PARCA (Canada's Program of Applied Research on Climate Action) has a BI team and a focus on personal transportation.
The next years will show us more transportation systems that are built around a deep understanding of the behaviours and needs of their customers which in turn will actually make it easy and attractive to travel in more sustainable ways. And TDM and BI are two different sides of the coin that will help us get there.
You can read the original article here.